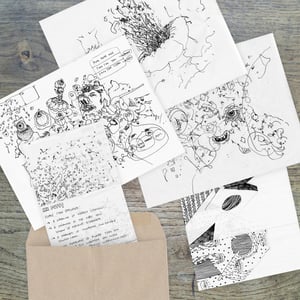 $

180.00
Each Surprise Drawing Pack is one-of-a-kind and contains roughly the following:
3 original pen drawings.On standard 8.5x11" printer paper.
2 photocopies of hand-drawn paper airplanes. Accompanied by folding instructions for The Boolean, a terrific paper plane that flies back to you like a boomerang. The Boolean is guaranteed to dramatically enhance your ability to procrastinate, while simultaneously sharpening your intuitive understanding of aerodynamics.
A hand-written note explaining the unique contents of your particular pack. Addressed to the name of your choosing.